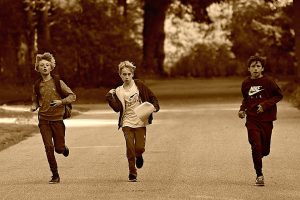 Three boys under the age of 10 are facing charges of rape and kidnapping in Georgia after the mother of an 11-year-old girl filed a police report on Sunday. The boys are currently being held at a detention center, authorities said.
The Allegations
According to the allegations, the girl was assaulted near an apartment complex in the Atlanta suburb of Acworth.  The boys charged in the case are 8 and 9 years old. Police in said they have never investigated rape allegations against parties this young before.
"The victim said they were playing outdoors and the girl was forced into a wooded area where she was sexually assaulted, where one of the boys raped her," said Acworth police Captain Wayne Dennard.
Too Young for Felony Charges

Felony charges cannot be filed against the boys because of their age, said Cobb County District Attorney Pat Head. However, Head said they could be tried on delinquent charges that carry up to five years in a juvenile facility.
(Source: The Associated Press)
Has your child been charged with a crime? Contact an experienced criminal defense attorney today to learn more about his/her legal options.